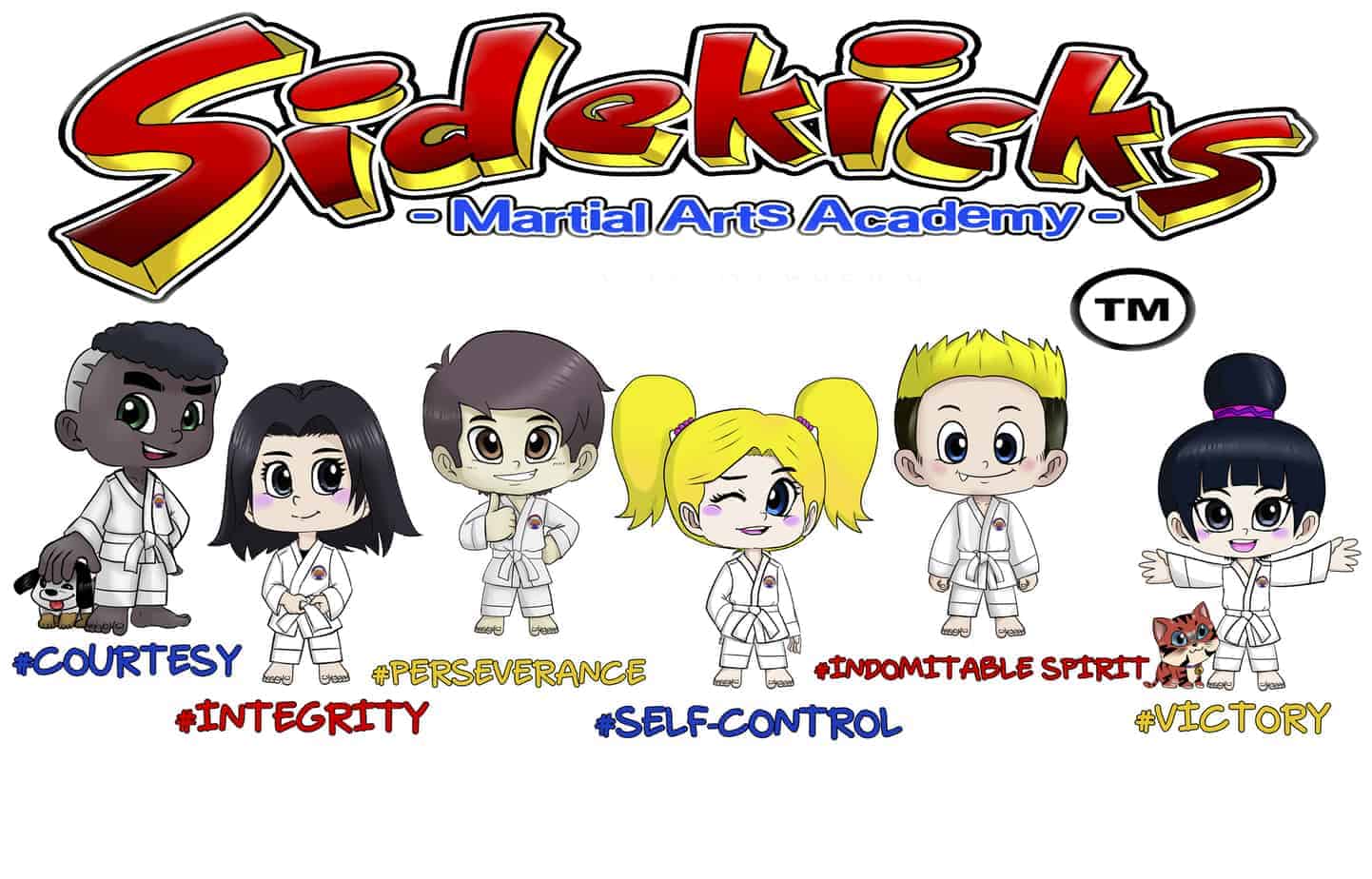 Kids Taekwondo Classes with Grandmaster Orange Sidekicks Martial Arts
What is Sidekicks Taekwondo Style?
Sidekicks style kids Taekwondo classes is a holistic approach to progressing students physically and mentally. Sidekicks Taekwondo develops the use of kicking and hand techniques. Hence, Sidekicks students cultivate great striking strength.
Sidekicks Taekwondo forms consist of seven sections of physical training.  These are developed to improve students physically and mentally. Thus, these skills are the basis of Sidekicks Martial Arts Academy requirements for grading and rank promotion. View Sidekicks Forms in action on Sidekicks Kids YouTube Channel. See Sidekicks Belt Forms Playlist for white belt through black belt forms.
BASICS – elements of hand and arm motion

KICKS – elements of foot and leg motion

FITNESS – evidence of physical fitness

FORMS – individual actions

ONE STEP – practical use of combat techniques

SPARRING – relative free combat action

BREAKING – provides evidence of power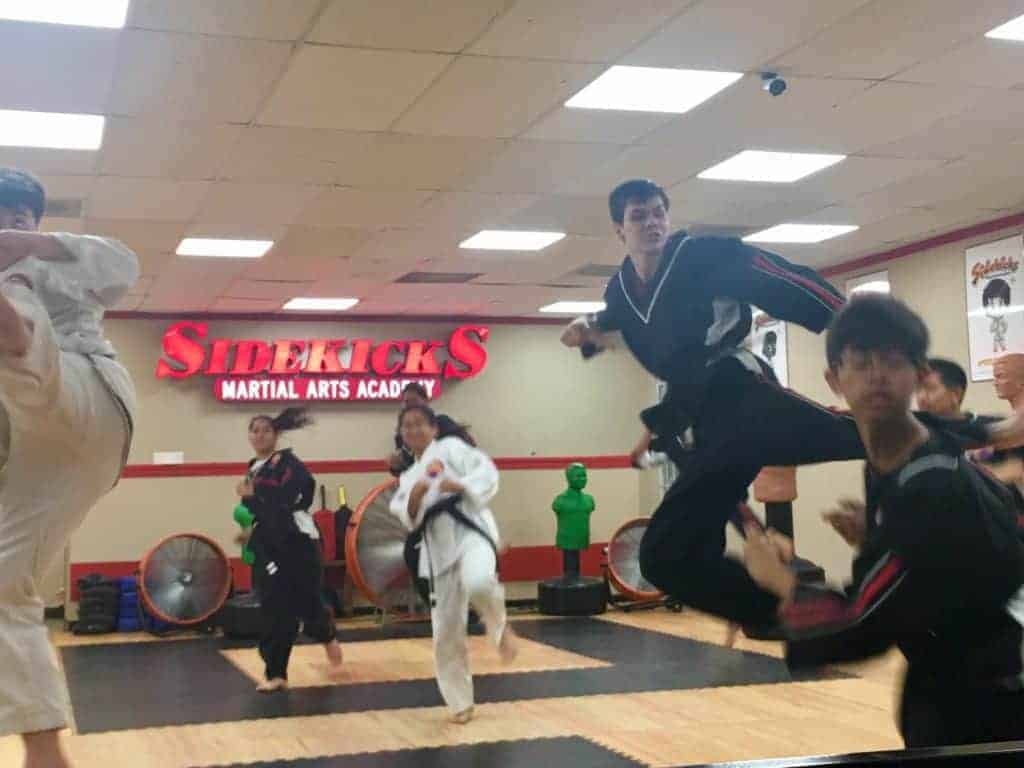 TAEKWONDO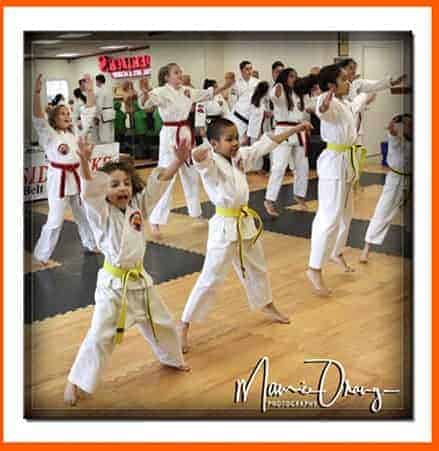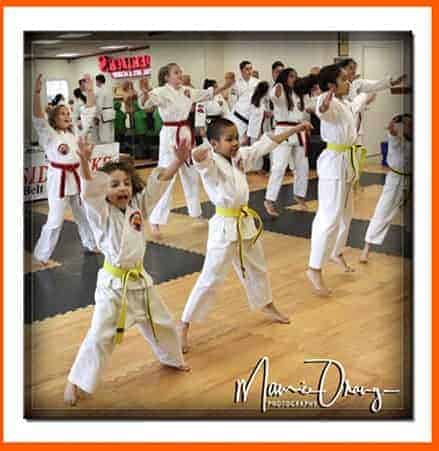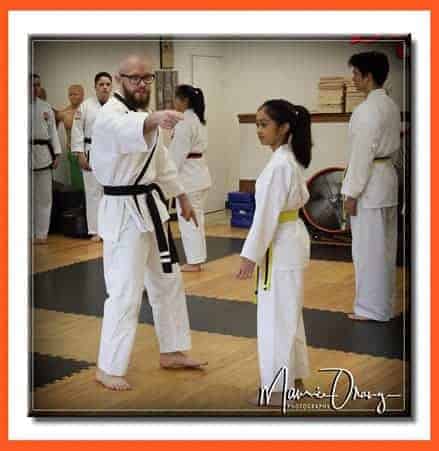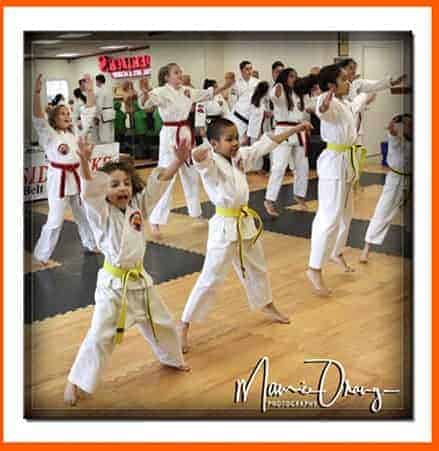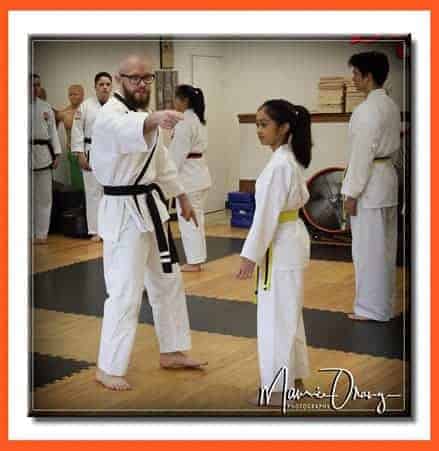 Children taking taekwondo develop improved poise, confidence and self-discipline.  As a result, the positive effects of taekwondo carry over to their home life and school work.
In fact, one of Sidekicks students received the top scores in math AND English for the State of California. She's received the award, not once, but two years in a row! She's already a Sidekicks black belt. Her and her brothers have been Sidekicks Taekwondo students for over seven years.
Certainly, Taekwondo can be learned by everyone young or old, male or female. Sidekicks Instructors guide each student along, supporting their individual progress.
Many people know that Taekwondo is one of the most effective methods of self defense.  However, did you know that Taekwondo:
Builds self confidence

Assists with physical and mental co-ordination

Provides relaxation
Sidekicks Kids Taekwondo Classes offer a variety of benefits to children beginning as young as age five. Taekwondo students gain a keen sense of individual accomplishment, almost lacking in team sports.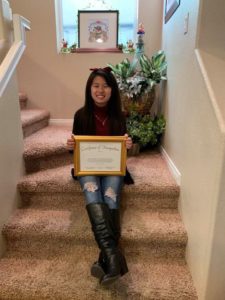 What is the typical progress for a student at Sidekicks Taekwondo ?
Each new Sidekicks student starts slowly and progresses at their own rate and speed. There is no typical progression.  As a result, each student learns as an individual. Sidekicks Instructors are well versed and experienced in teaching students at their individual levels.  You can learn more about the instructors at Sidekicks Martial Arts Academy here.
Kids Taekwondo
Sidekicks Kids Taekwondo Classes are for ages five-years-old and up. Classes are taught by Grandmaster Orange and his community of Taekwondo  instructors.
Sidekicks Martial Arts Academy has many second generation students enrolled.  That means their parents were students at Sidekicks. Educators and students of Sidekicks, from the past 40 years stop by to visit GMO at Sidekicks in Alta View.
Sidekicks Martial Arts Academy has a waiting list of kids under age 5 lined up to enroll, once they reach the minimum age for kids taekwondo classes.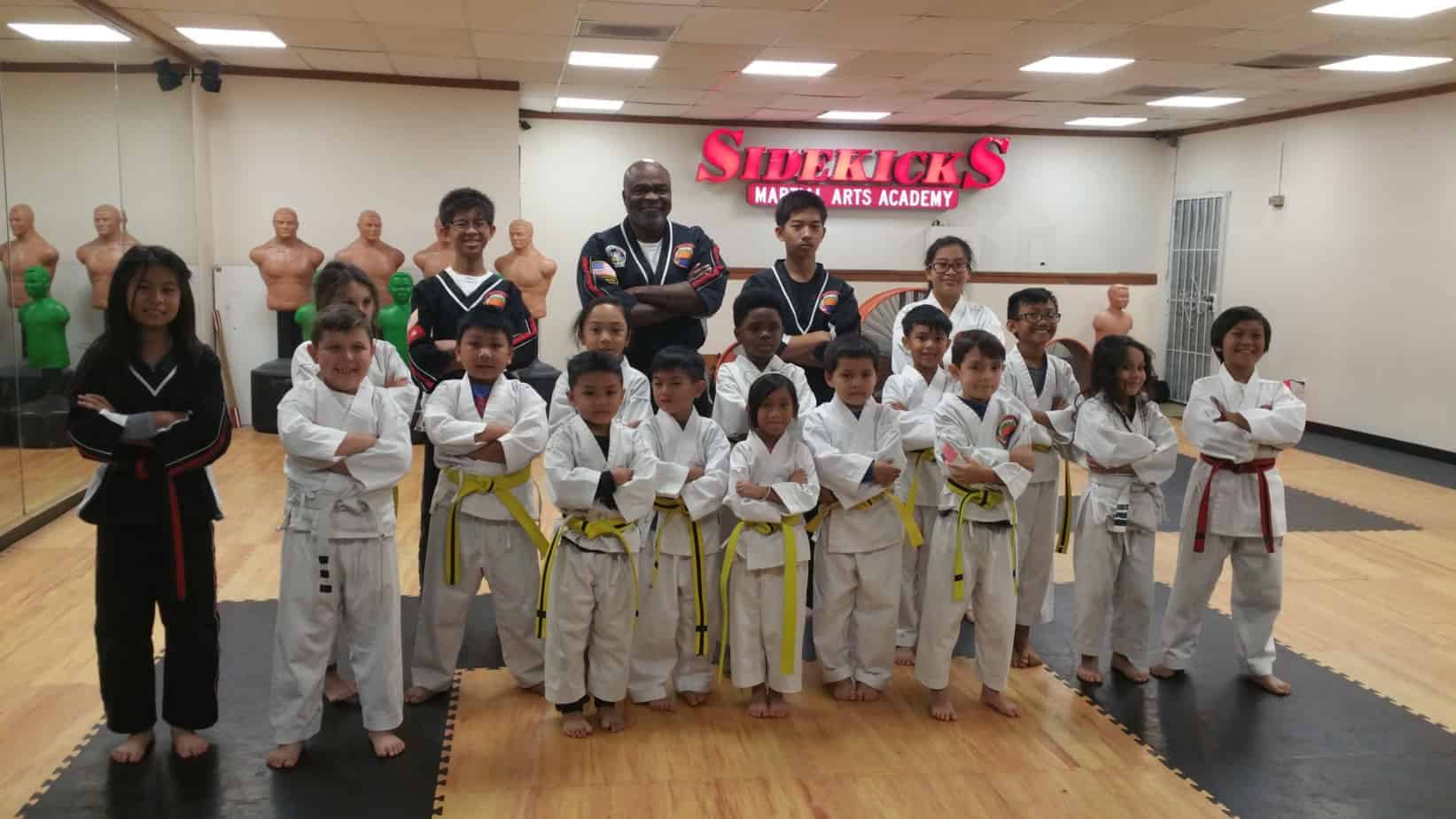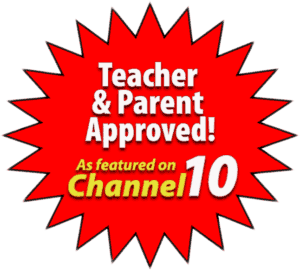 Classes at Sidekicks Martial Arts:
Home to many second generation students, Sidekicks is a community. It's a place to build character, learn self discipline, and practice self control. As a result, each class with GMO creates opportunity for family bonding and personal self development.
Taekwondo Classes for Teens
Sidekicks Taekwondo is extremely good exercise for the entire body. It keeps teens in shape by being active. Sidekicks provides teens with a social group of peers and instructors who become a positive support group. This helps them avoid many temptations faced by today's youth.
Do girls practice Taekwondo?
Yes! A lot of girls practice Taekwondo. Young girls can learn to practice Taekwondo. In fact, girls outnumber boys in Sidekicks Taekwondo classes. Girls that take Sidekicks Taekwondo classes typically are very good Taekwondo students.
Most noteworthy, they are good at following the instruction and thus, often advance faster than the boys. This is a fact that GMO has observed over the 45 + years that he has been teaching Kids Taekwondo classes.
Girls from age 5 can be quite good at Taekwondo!
On Sidekicks Martial Arts Academy You Tube Channel, are many videos of girls practicing Taekwondo.
See kids taekwondo classes in action here Sidekicks Martial Arts students in action.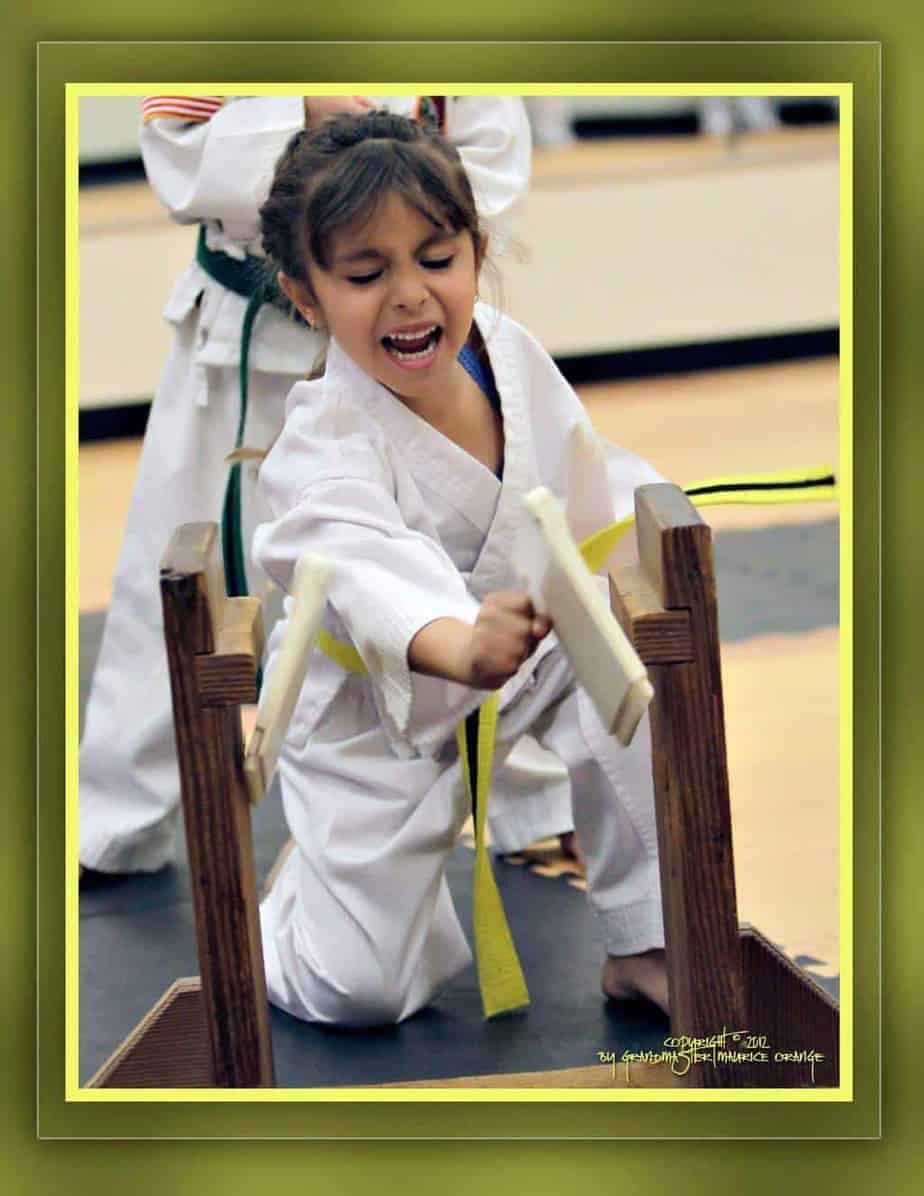 TAEKWONDO TOURNAMENTS
Sidekicks kids Taekwondo classes include testing and belt rank promotions. Students competing at taekwondo tournaments get the chance to perform in new environments.  Consequently, they meet new people and make friends with students from other martial art schools. Most noteworthy, they get to see advanced black belt competition in action. And above all, students who compete, get to win trophies.
Students of all ages and ranks participate in competitions. Participants are divided by rank, gender and height. Consequently, all participants are fairly matched.  Most importantly, they are competing with contenders of similar experiences and skill.
Taekwondo tournament divisions are meant to be small with friendly competition. Tournament hosts and judges ensure all participants enjoy themselves and are judged fairly. Judges are specially-trained to conduct their divisions efficiently. They enforce all tournament rules, hence keeping the competition fair and ensuring that no one is injured.
What do Tournaments involve?
Taekwondo tournaments typically involve two main categories: Forms and Sparring.
Forms are the movements and their specific sequences. Sparring in tournaments can be either free fight or one step. In contrast, some tournaments include board breaking and weaponry.
If you are interested in viewing Sidekicks Taekwondo forms in action, do so here, via this Sidekicks Forms playlist.
Did GMO ever compete in tournaments?
Yes, Grandmaster Orange competed in lot of tournaments back in the day! In fact, he was pretty darn good. Ask his former students, Mr. Copon or Mr. Tran at Sidekicks,or  Johnny Morris at Aspire Martial Arts. Or ask any second generation family parents. They will tell you stories of GMO's tournament competition days.
On the Sidekicks Awards Gallery, you can see some of the accolades Grandmaster Orange accumulated over the years. As for GMO himself, he's too humble to mention anything about it. We'll save that for a later post!