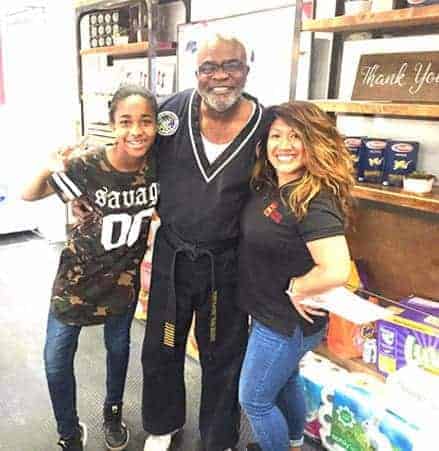 Here's a typical day "at the office"  for GMO.  He arrives to the martial arts studio and is teaching classes.  He sees a food drive going on out in front of the studio.  He goes out and starts talking with the kids organizing it, and asks why he and the other business owners were not informed of this event.  Next thing you know, he's inside asking to have someone help him get groceries.
"You made a mistake as there are many small merchants here who could have been collecting food in advance."
Two mother volunteers.  Went to Ralphs and filled to brim with donate-able goods.  Then come get me so I can pay for it.  Brought the carts over to the school.  Spoke about being an agent of change and assisting people who are less fortunate.
All walked over and donated the food, which went to San Diego Foodbank.  Had them call the person in charge of the project.  As it turns out, he had his younger brother trained at Sidekicks prior.