Second Generation Sidekicks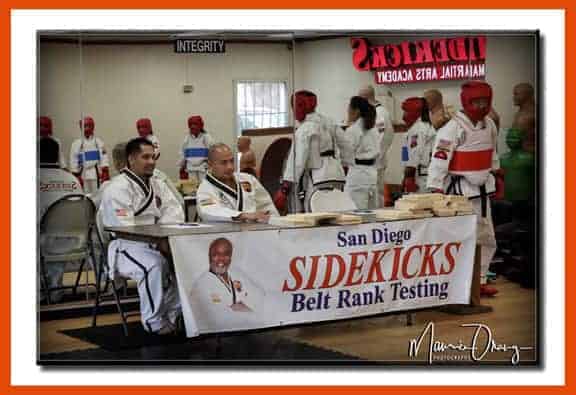 Lots of kids that train and practice marital arts with Grandmaster Orange are second generation students. This means that their parents were also students of GMO, and now the parents bring their kids to Sidekicks. In several families, the grandparents are now bringing the kids to Sidekicks!
During the summer, Mr. Pablo came all the way from Las Vegas, to help with the testing! He had three of his kids testing for belt promotion and two of his brothers kids testing. Mr. Pablo is a former instructor and manager at Sidekicks San Diego, now he wants his kids to be involved and they are training at Sidekicks.
The Pablo Family kids were staying with their Grandparents in San Diego for the summer, so they could take Sidekicks classes. It was pretty awesome to see Mr. Pablo and Mr. Tran at the testing table. Mr. Tran has 5 kids in Sidekicks Martial Arts Studio, and some of his kids were testing too.
When we asked Grandma and Grandpa Pablo what its like, seeing their grandkids train at Sidekicks now, 20 years after their 3 sons were Sidekicks students, they beamed with pride, "We love it! Its just like the first time we are seeing it. This never gets old. Its still exciting!"
It's so special that we created this You Tube playlist to showcase these families.