? Taking a Virtual Russian Cruise ?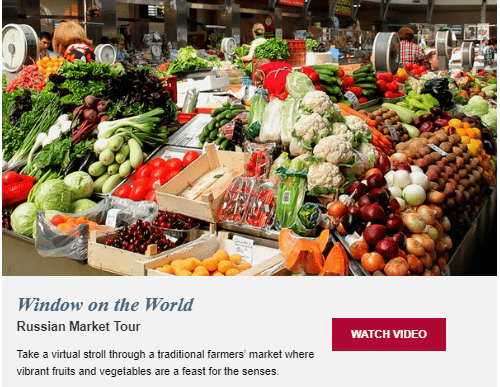 Today we're going to take a Virtual Russian Cruise, without leaving the house! So pack your imaginary bags, grab your travel pass, and let's go! First up, we'll visit a Russian market place!
Window on the World
Russian Market Tour

Take a virtual stroll through a traditional farmers' market where vibrant fruits and vegetables are a feast for the senses.
Can you spot any familiar fruits in this Russian market? Is there anything that looks unfamiliar?
What language or languages do people speak in Russia? Do you know?
Next up on this Virtual Russian Cruise, we are visiting a museum.
Settle in for this fantastic once in a lifetime guided tour through one of the world's biggest museums in St. Petersburg, Russia.
You can personally experience a 5 hour, 19 minutes cinematic journey  This amazing video walks you and your family through 45 galleries, 588 masterpieces, and live performances. It was filmed on an iPhone 11 Pro in one continuous take, without stopping!  ENJOY …
Curated Curiosity
The State Hermitage Museum, Saint Petersburg

Witness a unique cinematic tour covering an astounding 45 galleries, 588 masterpieces, and captivating live performances.
What kinds of art and national Russian treasures did you see in the Petersburg Museum?
What was your very favorite room in the museum?
Did you notice the ceilings and the walls?
Were you overwhelmed at all of the decorations?
Share your thoughts about this tour, and write them down on a piece of paper.
Next up on this Virtual Russian Cruise, we're going to have some Russian homemade soup!
Have you heard of this traditional Russian soup, called Borscht?
Kitchen Explorations
Russian Borscht

Simple yet satisfying, this celebrated beet soup is a staple in Russia and eastern Europe.
Why do you think Borscht is eaten cold in the summer?
What kind of soups do you like to eat?
Have you ever made a soup?
Do you know how to follow a recipe?
Grandmaster Orange is an EXCELLENT COOK!! Did you know that? He does not even need to follow a recipe!